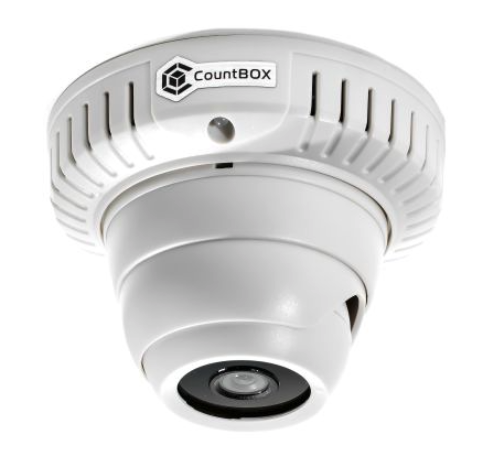 to read more about it click here
OVERVIEW
CountBOX SmartDevice 2D consists of two elements: a smart device with computer vision, analytical algorithms, and digital camera, both assembled in one compact case.
The main feature of the CountBOX SmartDevice 2D is real-time people counting. Once your footfall is being tracked and measured, you can start analyzing your data to identify customer trends, footfall patterns, conversion rate and much more. Your data is securely stored and can be easily accessed via CountBOX cloud located at:
COUNTER MOUNTING REQUIREMENTS
Minimum mounting height is 8 feet 10 inches (2.7 meters), maximum with standard lenses – 16 feet (5 meters). Mounting height with lens adjustment is up to 49 feet (15 meters).
The counting area should be clear from:
all obstructions such as displays, banners, etc.
non-customer entering the location
any other electronic terminals in doorways
Eliminate counter area interaction with doors opening inwards
Counting area should be clear of EAS flashes
If there are any chromium or shiny elements around, you need to cover the top of the elements with a transparent matted layer
If an EAS solution is present, the counting sensor should be mounted in the middle above it
If an EAS solution is not present, we recommend mounting the counting sensor in the middle of the entrance
The sensor should be placed behind the entrance or interior doors swing a maximum of 12 inches or approx. 30 centimeters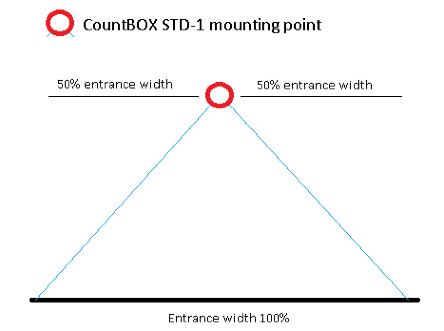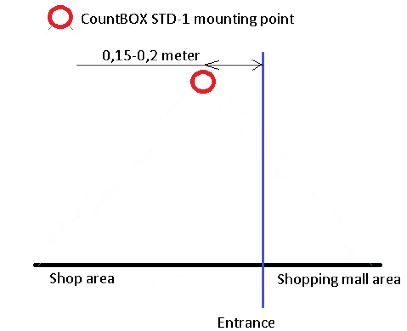 Make sure there are no objects blocking the sensor's camera lens view, such as an air-conditioners, heat screens, curtains, etc.
Sensor optical axis must be directed strictly 90˚ to the floor
Checking with plumb line is required
The sensor should be mounted in the middle of the entrance in such way, that counting line divides the screen (camera eye view) into two equal parts – this is essential to accurately capture visitors as they enter and leave the location by crossing the counting line.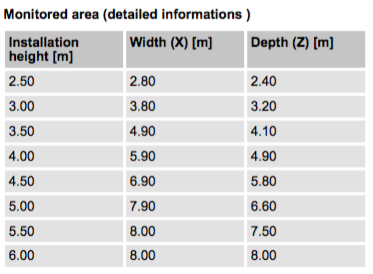 UTP & PoE REQUIREMENTS
UTP (CAT5 or CAT6 cable) should be mounted inside the existing location in accordance with your client's requirements. It's always a good idea to use special markers for our cables.
If using PoE power adapter, it should be located at a place that's easy to access.
PoE power adapter can be marked with words "DON'T SWITCH OFF!"
In our experience, these magic words are very important.
GETTING STARTED WITH YOUR SMARTDEVICE
Connect SmartDevice to your network equipment (router or switch) via Ethernet with PoE or your PoE injector to power up the device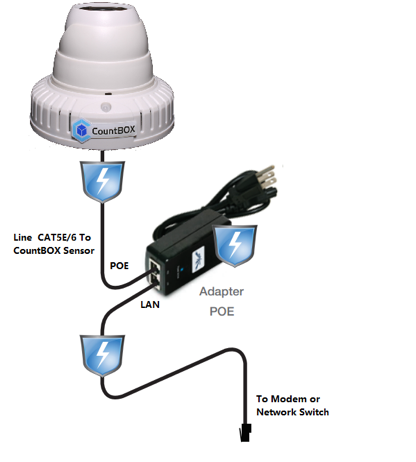 Cabling: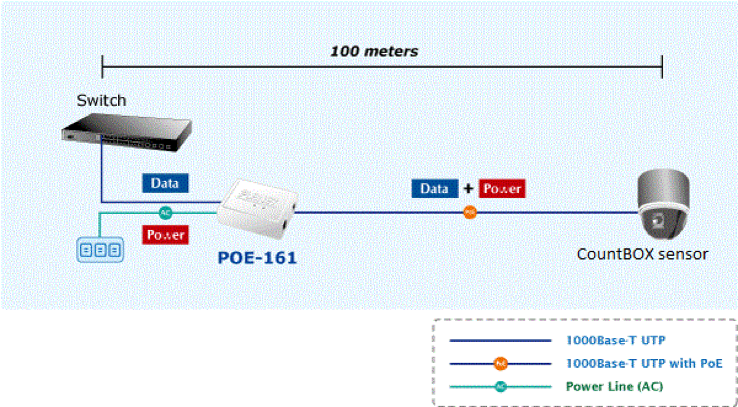 Setup your Local Area Connections settings / Internet protocol version 4 (TCP/IPv4)
IP 192.168.10.x
Mask 255.255.255.0
If your device set to automatically receive IP from your network, you can follow this article how to find IP of the sensor on your network here: https://support.countbox.us/hc/en-us/articles/115000484826-Locating-IP-of-the-sensor-with-IP-scanner
Open the browser and enter Smart Device address in URL bar:
192.168.10.10 (default address)
Log in:
Username: admin
Password: admin
Go to Video tab
Check that the lens is pointing directly to the floor at a 90-degree angle
Customize the counting line
When creating your custom counting line, left to right movement will affect the registration of incoming visitors, while right to left line will register those who are leaving your location
Make sure your newly created counting line divides the screen into two equal parts
Click Save
Counting line must be aligned like in the picture below: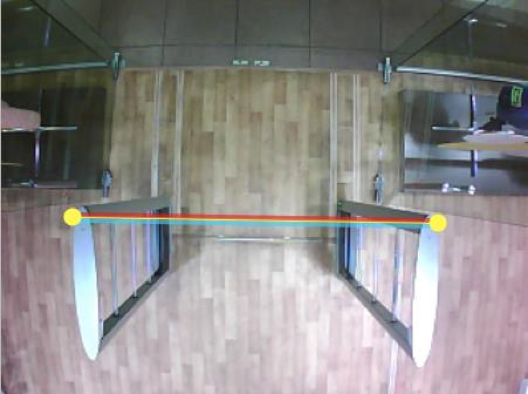 Go to Object Size tab
Ask somebody to stand under the camera
Set correct circle size, it should fully cover a person's shoulders
Click Save
Go to Device tab
Set device name, we recommend setting an unique name, for example Brand_City_Location, Apple_Chicago_MichAve
Set date and time
Set NTP time synchronization server, we recommend to use server: time.nest.gov
Choose your time zone
Click Save
Go to Network tab
If you are using DHCP (Dynamic Host Configuration Protocol), write down counter MAC address and apply the obtained IP address automatically (DHCP)
Be sure to complete all counter settings below in this guide before saving your preferences
When all is complete, contact your IT specialist and provide them with counter MAC address, so they are able to fix the static IP address connected to counter MAC address
If you still need to setup counter further, please ask them to provide counter settings to you
In most cases, (Static IP address) check with the (client's) IT specialist for the counter settings (IP address, Network mask, Gateway, DNS)
You may be able to use a 'free' IP address
Go to FTP tab (In case of a cloud setup via FTP, otherwise, disregard this step)
If you have firmware version 3.3.3816 or higher, please press TEST FTP button to test connection
Checking counters counting algorithm
Go to Video tab
Reset the counters and ask someone to walk in and out at list 10 times
Write down the exact time when the line was crossed on the way in and out
Check Incoming and Outgoing values, they should change accordingly
Go to Data tab
Choose the interval
Click Show
System information should be consistent with the information that you wrote down
Testing counter installation
Check with IT specialist for port forwarding
Provide external IP address to our support team
Within 12 hours our support team will be able to check whether all requirements are in place
Alternatively, provide access to the system for our support team via Team Viewer
It is essential to test counter setup before the installers leave the location
Counter is ready to go
Go to Device tab
Go to Miscellaneous tab
Apply Clear Database button
Connecting to Count-BOX Deluxe cloud